PART ONE
It's that time of the year again when all of the television networks, cable outlets, streaming services and more roll out their newest and latest programming to grab for our attention.  There are numerous new Sci-Fi/Fantasy/Cult TV series debuting this Fall that Chromakey readers may be interested in checking out.
---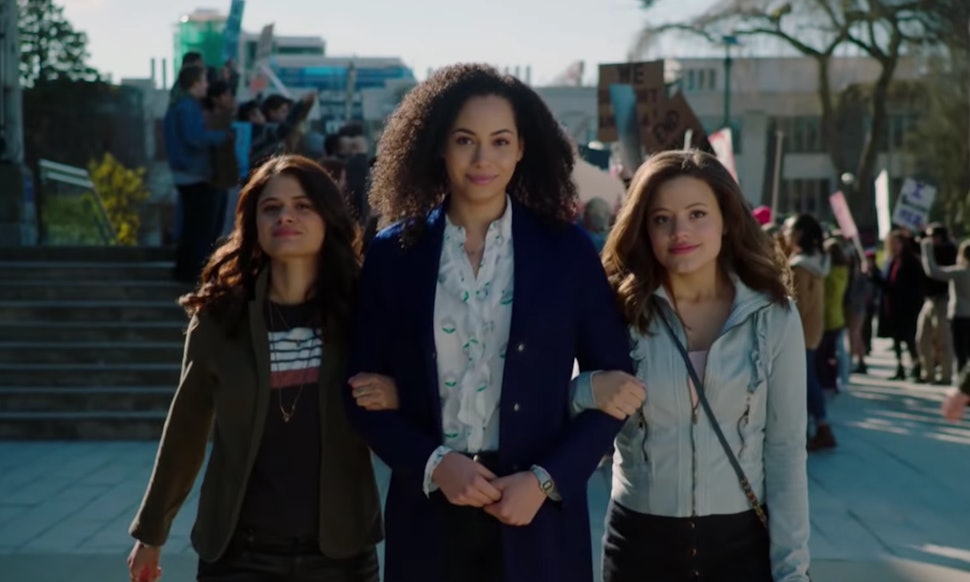 CHARMED
THE CW
Sundays/9:00 PM
Debuts: October 14
Stars: Melonie Diaz, Sarah Jeffery, Madeleine Mantock, Rupert Evans, Ser'Darius Blaine, Charlie Gillespie, and Ellen Tamaki.
After the tragic death of their mother, three sisters in a college town are stunned to discover they are witches.  Soon this powerful threesome must stand together to fight the everyday and supernatural battles that all modern witches must face: from vanquishing powerful demons to toppling the patriarchy.
---
GOD FRIENDED ME
CBS
Sundays/8:00 PM
Debuts: September 30
Stars: Brandon Micheal Hall, Violett Beane, Suraj Sharma, Javicia Leslie, Joe Morton
Questions of faith, existence and science are explored in this humorous, uplifting series about an outspoken atheist whose life is turned upside down when he is "friended" by God on social media. Unwittingly, he becomes an agent of change in the lives and destinies of others around him.
---
MANIFEST
NBC
Mondays/10:00 PM
Debuts: September 24
Stars: Melissa Roxburgh, Josh Dallas, Athena Karkanis, J.R. Ramirez, Luna Blaise, Jack Messina and Parveen Kaur.
When Montego Air Flight 828 landed safely after a turbulent but routine flight, the crew and passengers were relieved. Yet in the span of those few hours, the world had aged five years and their friends, families and colleagues, after mourning their loss, had given up hope and moved on. Now, faced with the impossible, they're all given a second chance. But as their new realities become clear, a deeper mystery unfolds and some of the returned passengers soon realize they may be meant for something greater than they ever thought possible.
---
LEGACIES
THE CW
Thursdays/9:00 PM
Debuts: October 25
Stars: Danielle Rose Russell, Jenny Boyd, Kaylee Bryant, Quincy Fouse and Aria Shaghasemi, Matt Davis.
Continuing the tradition of THE VAMPIRE DIARIES and THE ORIGINALS, the story of the next generation of supernatural beings at The Salvatore School for the Young and Gifted. Klaus Mikaelson's daughter, 17-year-old Hope Mikaelson; Alaric Saltzman's twins, Lizzie and Josie Saltzman; and other young adults come of age in the most unconventional way possible, nurtured to be their best selves…in spite of their worst impulses. Will these young witches, vampires and werewolves become the heroes they want to be — or the villains they were born to be?
---
MURPHY BROWN
CBS
Thursdays/9:30 PM
Debuts: September 27
Stars: Candice Bergen, Faith Ford, Joe Regalbuto and Grant Shaud will reprise their roles, and Tyne Daly, Jake McDorman and Nik Dodani will join the cast.
CBS has given a 13-episode series production commitment to a current-day revival of the Network's classic comedy from Warner Bros. Television. As its 30th anniversary approaches, MURPHY BROWN returns to a world of cable news, social media, fake news and a very different political and cultural climate. Daly will play Phyllis, the sister of the beloved, deceased bar owner Phil from the original series, and it's evident that the apple doesn't fall far from the tree. She has taken over the bar and is a friend and confidant to Murphy and the gang.
---
THE INBETWEEN
NBC
Date & Time TBA
Debuts: Spring 2019
Stars: Harriet Dyer, Anne-Marie Johnson, Cindy Luna, Chad James Buchanan and Paul Blackthorne.
Cassie Bishop was born with a gift, though she may call it a curse. She can see and communicate with the dead, helping them with their unresolved problems … whether she likes it or not. When her longtime friend Det. Tom Hackett and his new partner, former FBI Agent Damien Asante, need help solving a darkly puzzling murder, Cassie agrees to use her abilities. Despite her reluctance, she may have found a way to keep her demons at bay, all while solving some of the city's most challenging cases.
---
THE PASSAGE
FOX
Date & Time TBA
Debuts: Spring 2019
Stars: Mark‐Paul Gosselaar, Saniyya Sidney, Vincent Piazza, Brianne Howey, Jamie McShane, Caroline Chikezie, Emmanuelle Chriqui.
Based on author Justin Cronin's best‐selling trilogy of the same name, "The Passage" is an epic, character‐driven thriller about a secret government medical facility experimenting with a dangerous virus that could either cure all disease or cause the downfall of the human race. The series focuses on a 10‐year‐old girl named Amy Bellafonte, who is chosen to be a test subject for this experiment and Brad Wolgast, the Federal agent who becomes her surrogate father as he tries to protect her.
---
ROSWELL NEW MEXICO
THE CW
Date & Time TBA
Debuts: Spring 2019
Stars: Jeanine Mason, Nathan Parsons, Michael Trevino, Lily Cowles, Michael Vlamis, Tyler Blackburn, Heather Hemmens, Trevor St. John and Karan Oberoi.
Based on the Roswell High book series, by Melinda Metz. After reluctantly returning to her tourist-trap hometown of Roswell, New Mexico, the daughter of undocumented immigrants discovers a shocking truth about her teenage crush who is now a police officer: he's an alien who has kept his unearthly abilities hidden his entire life. She protects his secret as the two reconnect and begin to investigate his origins, but when a violent attack and long-standing government cover-up point to a greater alien presence on Earth, the politics of fear and hatred threaten to expose him and destroy their deepening romance.